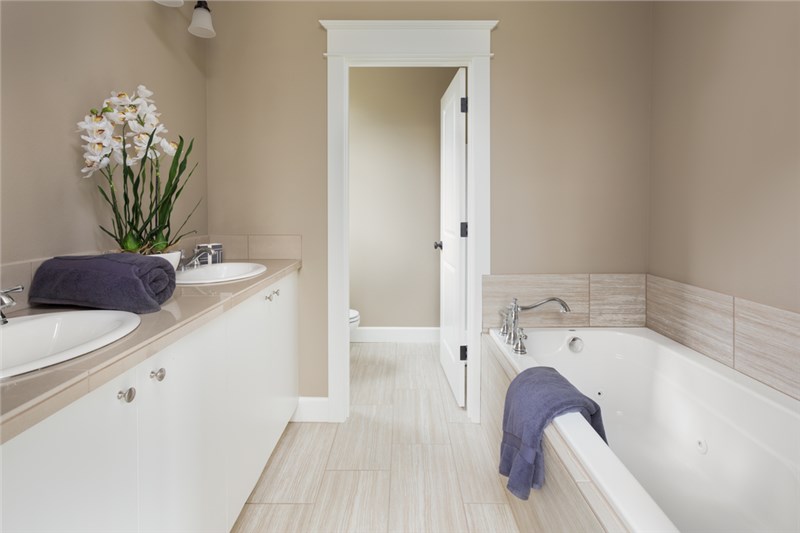 Summer is one of the busiest seasons of the year for our bathroom contractor experts at Southern Trust Home Services Featuring Luxury Bath. With many homeowners on vacation and spending more time at home, the summer months are a wonderful time to finish home improvement projects that we've been putting off for months.
Bathrooms are a fabulous area to focus your summer remodeling project sights on, especially if your bathroom is seeing higher traffic than usual over the summer months. If you're thinking about getting started on your own bathroom remodeling project this summer, get inspired with our team's favorite bathroom remodeling trends we've seen so far this year.
Ultra-Luxury Master Bathroom Renovations
Imagine a more spacious and comfortable spa-like getaway, right inside your own home. For those that find comfort, beauty, and lavish designs as critical home décor values, ultra-luxury master bathroom renovation is a very hot trend that's worth paying attention to.
From heated marble floors and plush seating areas to glass-enclosed rain showers and jacuzzi tubs, luxury bathrooms are nothing new. In 2018, however, new technology takes things up a notch—adding in plenty of the features that we've all become addicted to, like mood lighting, strategically-located charging stations, flat screen televisions, and heated marble floors.
High-Tech Bathrooms for a Technology-Obsessed World
Speaking of modern technology, high-tech bathrooms have been rising in popularity for a while. This year, we've seen bathroom features get smarter than ever, with voice-controlled lighting, heated flooring, Japanese-style toilets, and even touch screens built right into the countertops and mirrors.
For those that are really technology-obsessed, high-tech bathrooms are an interesting concept. If we've learned anything in recent years, investing in new technology is usually a good move, and investing in a smarter bathroom could translate into a smart investment.
Design Trends: Mother Nature Meets Modern Industry 
In the not-too-distant past, warm earth tone-colored bath tiles, floormats, shower products, and sinks covered bathrooms across the nation, with beige, brown, olive green, and pink as some of the most popular hues. The richly-colored earth-toned bathroom trend lasted years, if not a couple of decades, becoming popular in the mid-1990's and lasting well into the early 2010's.
Today's homeowners are ditching the earth-toned bathroom colors to concentrate more on texture. Our favorite décor designs borrow materials straight from mother nature, like rough, unfinished wood shelving, rocky stone wall surrounds, and marble floors, and contrast with industrial design features like brick accent walls, metallic surfaces, and even exposed piping. The result is highly aesthetic yet down-to-Earth, and an interesting and sophisticated design combination.
Barrier-Free Showers and Walk-In Tubs
One of the fastest growing trends in bathroom remodeling this summer revolves around creating a safer living environment for the family. As one of the most dangerous areas of a house, bathrooms are where most accidents take place inside the home, and high-walled bathtubs and slippery showers can be a serious cause for concern those with limited mobility. Building a better, safer bathroom is at the top of the list for many people, from handicapped family members and elderly residents to singles living alone and families with small children.
At Southern Home Trust Services Featuring Luxury Bath, we specialize in building safer bathrooms for our customers to enjoy, from beautiful barrier-free showers to elegant walk-in tub products and more. We've seen how increased accessibility in bathrooms can revolutionize the way our customers live at home, especially for those regaining their independence with our ADA-compliant bath products.
If you're interested in improving your lifestyle at home with a better bathroom, summer is a fantastic time to make the change. Whether you're thinking about upgrading with brand-new barrier-free showers, a full, luxury bath renovation, or a quick and affordable bath conversions, Southern Home Trust Services Featuring Luxury Bath has the perfect solution that's right for you.
To find out more information about one of the top bathroom remodeling trends listed above, or for any of our other premium remodeling services, let us know. Give us a call today or fill out our online form to have an agent contact you with scheduling information for your free, no-obligation pricing estimate and design consultation.