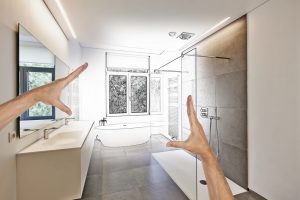 We are already southwest Virginia's leaders in plumbing, HVAC and electrical services.
Now there's a new reason to invite us into your home: Our bathroom remodeling services.
We take the same pride in refurbishing your bathroom as we do installing new water heaters or a surge protector. An investment in a new bathroom can dramatically increase the value of your home, especially if it hasn't been remodeled since "The Brady Bunch" was primetime television.
As if a brand-new bathroom that will likely pay for itself isn't enticement enough, we are offering $200 off our bathroom remodeling services. We'll also work closely with you to determine what your design, goal and vision is for your bathroom to ensure you get exactly what you've dreamed about.
Step back, take a long look at your bathroom, and consider how much better it would look with these upgrades and renovations:
Fixture replacement and installation. Imagine a shiny new sink to replace the one that lost its luster long ago.
Tub/shower replacement or upgrades. Fewer people take baths on a regular basis these days. Many prefer showers, so ditch that dinged-up, grungy tub for a sparkling new walk-in shower with a brand-new showerhead.
New sinks and counters. Even if you scrub and scrub, some older sinks never seem to get clean again. We'll install a new one, along with new counters customized to your taste and need. Want more drawers for makeup, or deep shelves for towels and linens? We've got that covered.
New floors. Lose the linoleum and go with classic new tile that shines.
Upgraded lighting. Do you have to squint when you shave or apply makeup in the morning? Your outdated lighting could be to blame. From track lighting to traditional fixtures, we'll shed new light on the most-used room in your house.
Toilet replacement. Has your commode finally gone down the tubes? Is the seat chipped and wobbly? Replace the main throne in your home and be king or queen of all your survey.
Easier accessibility. If you have limited mobility because of injury or plain-old age, we can remodel your bathroom to make it more accessible and convenient. We'll work with you to determine what the best upgrades would be to suit your special needs.
So, prepare to assume the new throne. We'll be your subjects, working under your reign to achieve the bathroom of your dreams. Contact the bathroom experts at Southern Trust today to get started.