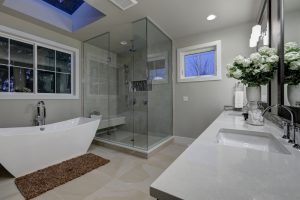 We have recently added bathroom remodeling and upgrades to our list of home service offerings in the Roanoke area. You and your family spend a lot of time in the bathroom, so ensure it's a pleasant place. Sometimes you can no longer handle the lime-green tub installed in the 1970s, or your toilet runs like a cheetah, or your vanity is anything but.
Whatever the reason, we offer top-of-the-line services and products within our new bath division. Here are five reasons you should finally install the bathroom of your dreams.
Increase resale value. In the hottest real estate markets, you can recoup the entire cost of a bathroom remodel – and then some – upon sale of your house. This is especially true if you add a new bathroom; if you have four bedrooms and one bathroom, for instance, your house may be a tough sell anywhere.
Save space. Many people don't have time for baths, so the once ubiquitous whirlpool tubs in master baths are being replaced with walk-in showers. This reduces the footprint required for a tub, freeing up some space for an additional cabinet or closet.
Live better. Again, people spend a lot of time in bathrooms, so make it as aesthetically pleasing as possible for your enjoyment. And let's face it, once a tub or sink is stained, it can be nearly impossible to get thoroughly clean.
Replace plumbing. Some homes retain much of the plumbing system installed when it was first built. That means you may have some aging pipes that are prone to clog or bound to fail at some point. Replumbing means you won't have to face the headache of a major plumbing overhaul in the near future.
Save time. We can design a bathroom to your specifications, down to the vanity and towel racks. Want more space for makeup? We can install new drawers. Want an organized storage space for medicines, towels or cleaning products? We can install that, too. Organization saves time, especially if you are prone to a mad dash into and out of your bathroom each morning.
Contact us today or call (540) 707-0960 for an estimate or more information on our Roanoke bathroom remodeling services. When you see the equity added to your home, or enjoy the comforts of a brand-new bathroom remodeled by our team of talented experts, you'll be glad you did.