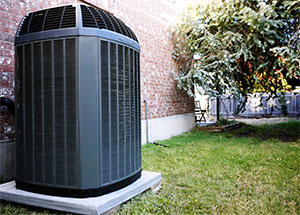 When it comes to air conditioning units, bigger is not always better.
There are industry-standard reference materials and software that can help you choose the right size air conditioner or HVAC unit for your Roanoke-area home. The HVAC experts at Southern Trust can also help you make the right call.
Most newer, more energy-efficient homes have air-conditioning loads of about 800 feet per ton – meaning that, for instance, if your home is 1,600 square feet, you likely need a 2-ton unit.
Contractors sometimes oversize units to compensate for unknowns – air-conditioning efficiency is affected by a number of factors, including the ductwork, sun exposure, and number of occupants of a given structure.
But if you have more capacity than you need, this can lead to "short-cycling," in which an oversized air-conditioner frequently cuts on and off because of the limited time it takes to cool a house. This can shorten the life of your system, and also means less humidity is drawn from the air, resulting in a damp environment.
If it's time to replace your HVAC unit, we can guide you through the range of factors that dictate what size your system should be. We can balance AFUE and SEER ratings with your required air-conditioning needs for the most energy-efficient, money-saving system that will pay for itself over time with reduced utility payments. And, as always, we provide upfront pricing and a lifetime warranty.
Some additional money-saving features we offer include home-zoning systems, which heat or cool only specific areas, and programmable thermostats. These thermostats allow you to set target temperatures that can be preset or controlled remotely.
If you are content with your present AC system, we can ensure it is operating as efficiently as possible with regular tune-ups and maintenance, or provide emergency repairs as needed.
Don't wait for summer to beat the heat. Call the HVAC experts at Southern Trust Home Services today at 540-685-0106, or visit our website.