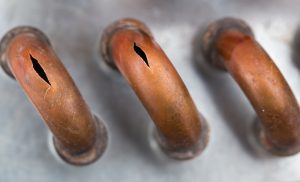 With cold weather taking over this January in Roanoke, making sure that your plumbing is ready when temperatures plunge can help protect your home from water damage related to frozen or burst pipes. If you are concerned about keeping the plumbing in your Roanoke home protected, Southern Trust Home Services plumbing experts can solve any potential plumbing issues this winter.
From minor and major repair to routine maintenance, Southern Trust Home Services has worked with a number of our Roanoke neighbors to help prevent and repair damage done to home plumbing systems during the winter. If you are concerned about the plumbing in your Roanoke home, our experts recommend the following ways to keep your plumbing protected.
Professional Plumbing Inspections
Southern Trust plumbing experts can inspect the plumbing in your Roanoke home for any potential issues before the coldest weather hits. Our plumbing professionals can identify any trouble spots with your plumbing that may be at risk for damage in the coldest temperatures of winter.
Turn off water to outside faucets
Does your Roanoke home have outside water faucets? If so, remove any attached water hoses from spigots and cover them with insulated covers that will protect them from the cold. If your home offers access to shut off water that leads to your outside faucets, be sure to do so to minimize the opportunity for frozen pipes.
Know the location of your main water shutoff valve
If you have a burst pipe, the most important step is to immediately shut off the main water valve in your Roanoke home. In addition, making sure that your family is aware where the main water valve shutoff is located will help minimize water damage from a burst pipe.
Protect your pipes and keep the heat flowing
If you have exposed plumbing pipes outside your Roanoke or pipes that are found against exterior walls, adding exterior insulation can help minimize the chance of those pipes freezing in cold weather. If your current home HVAC or heating system isn't keeping your Roanoke home warm, Southern Trust offers same day Roanoke heating repair that can help keep your home interior warm to protect against frozen or burst pipes.
With the cold Roanoke winter upon us, now is a great time to have the plumbing and heating professionals at Southern Trust inspect your Roanoke home plumbing and heating systems to keep your home protected all winter long. Call Southern Trust Home Services at 540-685-0106 to have our plumbing and heating professionals inspect your home today!